About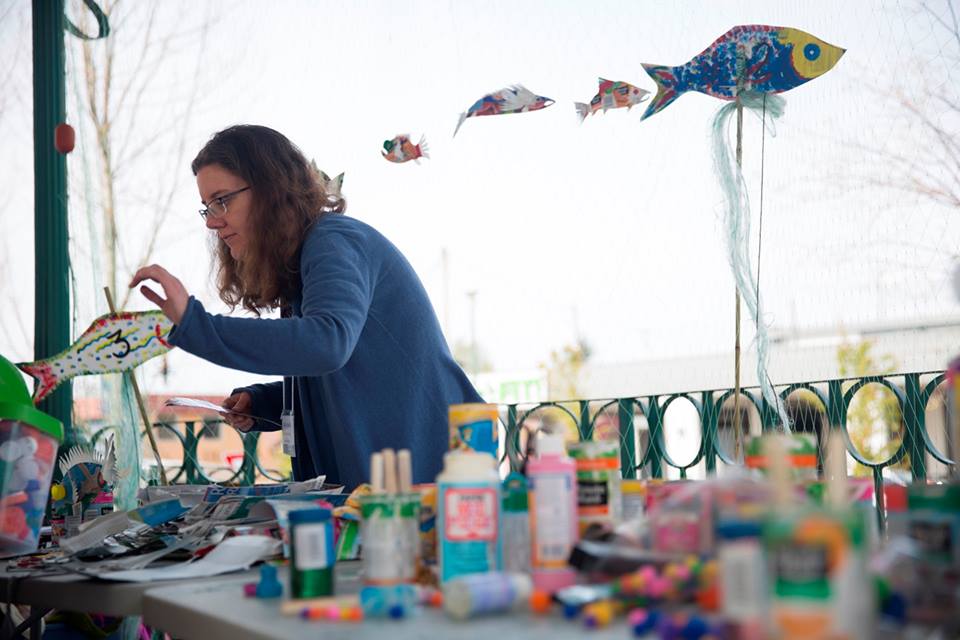 Photo: Maple Ridge Pitt Meadows Parks and Leisure Services
CV (PDF)
I'm a visual artist, environmental educator and curator from Vancouver, BC (Canada). I'm currently a multi-year Artist-in-Residence with the City of Maple Ridge (2014-2019) where I engage the community in exploring nature through art. You can learn more about my artist residency here.
My art reflects my passion for coastal marine ecosystems and my concerns about the impacts of human activities on forest, river and ocean life. In my mixed media paintings, I embed found materials, such as maps, into land- and sea-scapes that explore the interconnections between different species. My work is rooted in scientific understandings combined with site-specific observations. I'm particularly interested in making visible what is usually unseen.
My artwork has been exhibited in Canada and the United States, including at the Diane Farris Gallery (Vancouver), Seymour Art Gallery (North Vancouver), The ACT Art Gallery (Maple Ridge), Gig Harbour Maritime Museum (Washington State), Britannia Art Gallery (Vancouver), Crafthouse Gallery (Vancouver), Exchanges Artist-Run Gallery (Victoria), and the Koffler Centre for the Arts (Toronto).
In 2016, I was selected to create a large scale mural for the new BC Children's Hospital Teck Acute Care Centre, which opened in fall 2017. The forest-inspired artwork surrounds children as they undergo surgery while awake.
In 2012, I was awarded a commission by Vancity Credit Union to create original artwork for its redesigned South Burnaby Branch. I've received three Downtown Eastside Artist Grants, funded by the Vancouver Foundation (2013, 2011, 2009). In 2004, I was honoured with an artist fellowship from the Earthwatch Institute to create artwork about the diversity of plants, animals, birds and insects that support salmon-bearing streams in Washington State's Skagit River watershed.
In addition to my work as an artist, I create opportunities for artists and scientists to connect by curating art exhibitions at scientific conferences, including the Salish Sea Ecosystem Conference (2014, 2016, 2018), the International Marine Conservation Congress, and the International Seabird Conference. I also give presentations and hands-on workshops on the synergies between art and science at scientific and environmental education conferences.
In 2018, I completed a Master of Education in Arts for Social Change degree at Simon Fraser University (Vancouver, Canada), which included graduate level training in arts-based facilitation and research. My research explored how artists and scientists can collaborate on art projects that illuminate scientific research about the Salish Sea at Western Washington University's Salish Sea Institute. My graduate work was supported by a senior scholarship from the BC Arts Council. I hold a Bachelors of Journalism (honours), with a minor in art history, from Carleton University in Ottawa, Canada.
I'm a member of the Pacific Rim Arts Society, the Northwest Aquatic and Marine Educators association, and the Canadian Network for Environmental Education and Communication (EECOM).