Building an ecosystem
One of the reasons I love collage is the ability to create layers of meaning by taking existing material and placing disparate images and texts in proximity to each other. This simple act creates connections in our minds that can't necessarily be explained in a straightforward way, but intuitively create a little story.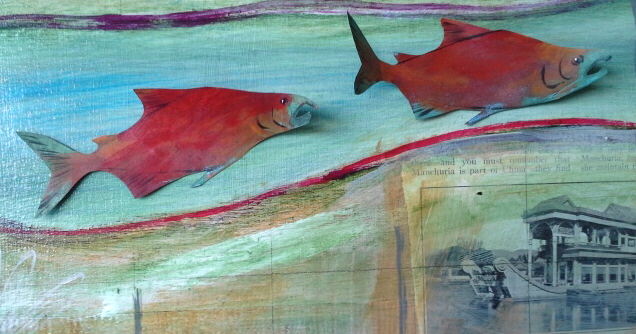 I've recently been integrating collage techniques into my paintings (or painting into my collages) to take advantage of the benefits of both while creating something entirely new.
The piece I'm working on right now explores the ecosystems in and around Richmond, BC, a suburban city to the south of Vancouver. Below sea level, it lies at the mouth of the Fraser River. The massive Fraser flows by the city on two sides before mixing with the salt water of the Salish Sea. The waters surrounding Richmond are rich with aquatic and marine life, and the land is an important area for migrating seabirds, including tens of thousands of snow geese.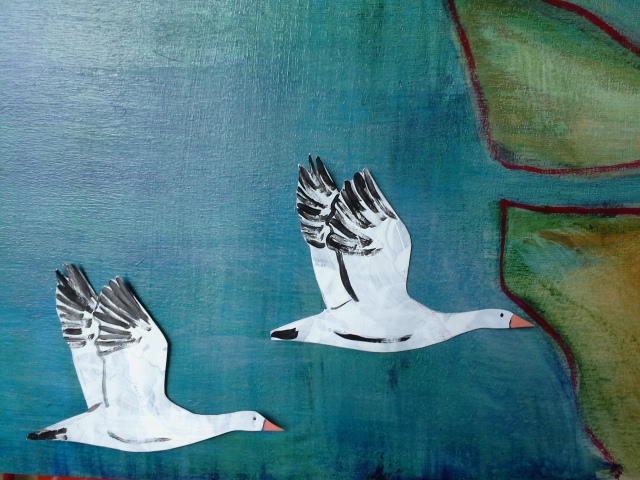 Culturally, Richmond is dominated by Chinese immigrants, mostly from Hong Kong. It's also home to people of Japanese, Korean, Filipino, East Indian, German, and other European descent. I've been collaging textual material in each of these languages, as well as postage stamps, maps, and images from these countries, into the background of a map of the city to reflect its diversity.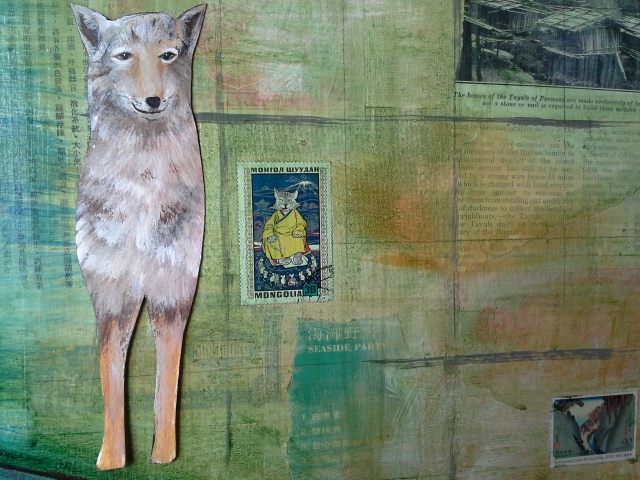 On top of the city background, I'm collaging in the animals and birds native to the Richmond area, including a barn owl, coyote and great blue heron. I'm also populating the river and sea with the aquatic and marine species that live there, such as this sturgeon.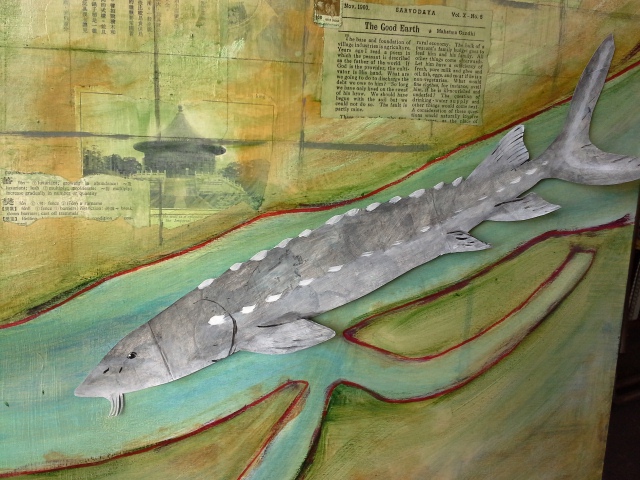 At this point I'm about halfway finished this large piece (36" x 72"). Now that I have most of my ideas set in my mind, what's left is the time-consuming work of drawing and painting all the species and then collaging them in.
Stay tuned for updates!